ATTENTION SHOPPERS: KIKI QUILTS will be experiencing delayed shipments.
AS A COMPROMISE WE WILL BE APPLYING A STORE WIDE DISCOUNT
(MAY NOT BE COMBINED WITH OTHER DISCOUNTS, ALL SALES ARE FINAL)
ALL ORDERS PLACED IN NOVEMBER WILL BE SHIPPED AFTER THANKSGIVING DAY (NOV 27).
ALL ORDERS PLACED IN DECEMBER WILL BE SHIPPED AFTER CHRISTMAS DAY (DEC 25).
WE HUMBLY THANK YOU FOR YOUR UNDERSTANDING AND CONTINUED PATRONAGE
DURING THESE TRYING TIMES
---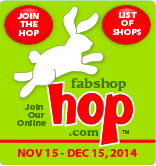 Join us for the last HOP of the year (Nov 15 - Dec 15)
>>> Click here to find bunny <<<
---